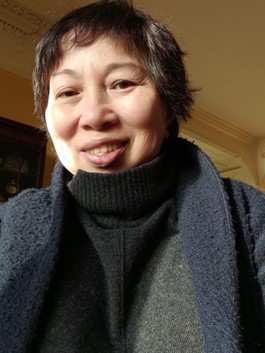 Marianne Villanueva is the author of Ginseng and Other Tales from Manila (a Finalist for the Philippines' National Book Award 1992), Mayor of the Roses (the inaugural publication of the Miami University Press fiction series), and The Lost Language (published in Manila by Anvil Press). She co-edited, along with poet Virginia Cerenio, the groundbreaking Filipino women's anthology, Going Home to a Landscape.
Her work has appeared in Manila Noir, Ms. Aligned Vol. 3, Philippine Speculative Fiction Vol. 9, Growing Up Filipino Vols. 1 and 2, Another Kind of Paradise: Stories from the New Asia-Pacific, Witness, Fourteen Hills, New Orleans Review and elsewhere. And she had collaborated with the composer Drew Hemenger in creating a full-length opera, Marife, about the mail-order bride of Oklahoma bombing co-conspirator Terry Nichols.
She currently teaches Creative Writing for UCLA Extension's Writers Program. She has also just completed her first novel, White Sails, Green Oceans, about a 16th century Spanish priest who is sent to an island in the central Philippines to fight demons. And has begun her second novel, Farm and Mountain, about the Japanese Occupation of Bacolod, Negros Occidental, during World War 2.
Marianne was published in Philippine Genre Stories in March 2011 with her story The Departure under the guest-editorship of Charles Tan. In 2023 she talks with us a little about her story featured for October, WHY DIDN'T YOU TELL ME.
Where did the story idea for WHY DIDN'T YOU TELL ME come from?
The story was lurking for quite some time. It's about a mother who is losing her memory, and I drew on my own relationship with my mother (who passed away in June 2021). Basically, it's about loss.
When a parent dies, it's devastating. But what if a parent starts to lose her memories? What does that experience feel like? The parent is physically present, but without memories. I maintain that the experience is equally devastating.
You solicited a story, and things just fell into place: I wanted to write this story. I felt a sense of urgency.
What came easy to you when it came to writing this story?
Paragraph 1. It always comes out in a rush. Especially if I've been holding back from writing a story for a long time. That's true for almost all my stories: I rarely change the opening paragraph, mostly because that first paragraph is the result of a massive release of energy. The subject's been building and building inside me, then BOOM. The story happens.
The other elements were a little more tricky because I hadn't been planning to write a speculative fiction. The world had to be built up, little by little.
What was the most challenging thing you had to overcome to complete this story, and how did you deal with that?
Well, if I could have gotten away with a 500-word piece, I would have been happy to leave it at that. But your gentle encouragement kept me writing more. And more. And more.
I am often not the best judge of when a subject needs opening up. A good reading partner (or editor) is indispensable.
For me, the hardest thing to write are transitions. The story moves back and forth in time, and I give the narrator a sister who appears only in her memories. The interweaving of the memories of the sister with the memories of the mother was something that had to be tweaked, again and again and again.
The other thing that I found challenging was how to put Goat Man and the Philippines into the same story!
What are the top three writing tips you would like to share with all aspiring storytellers out there?
1. Be tenacious.
2. Read widely. Making time for reading is just as important for a writer as making time for writing. HOW you read is also important. You have to read like a writer, mining a book for what it can teach you about story organization, voice, point of view, etc.
3. Find a community, because even though writing is a solitary pursuit, getting the words out into the world is a function of knowing where to send, when to send, and who to send to. You cannot rely on luck. You have to actively network.
What's the one thing not mentioned in your profile that you would like people to know about you?
I write multi-chapter fanfiction. I ship Everlark and Gendrya. It's pure escapist fun. When I get into a zone, I can churn out a chapter a night.